Just sit back and enjoy…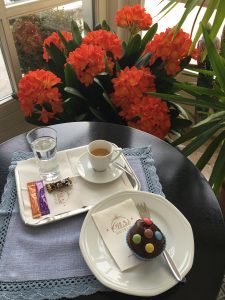 Homemade cakes and pastries. In addition an aromatic coffee.
In the fireplace hall you can relax in front of the open fireplace with a cup of coffee or exquisite tea specialities from Ronnefeldt.
At the AstroBar you can enjoy a glass of wine or freshly tapped Tyrolean beer from the Starkenberg Castle Brewery. The current pictures of the Heiligkreuz Astrostammtisch are also exhibited here. Let yourself be carried away into the world of planets and stars. Astrostammtisch is every Thursday from 20 o'clock.
Highspeed wireless internet access is available throughout the hotel and is included in the room rate. It is up to you whether you use it for working or sending holiday e-mails.